Drawings will be held each month for free art giveaways to subscribers of this blog.
This is the story of how I managed to expose information about domestic violence to tens of thousands of readers via one piece of my art. It is NOT a post about Scott Peterson, the tried and convicted killer of Laci Peterson.
Andy Warhol's philosophy embraced the notion that fame dehumanizes people;that once a person becomes famous, they
"belong"
to the public. By excluding all sentimental associations his work spoke to the media's ability to strip the famous of all characteristics that actually made them thinking, feeling human beings and made them objects to be loved or hated by people they had never met. His emphasis on heavy make up and overly glamorous representations of people were the vehicles by which he arrived at this destination.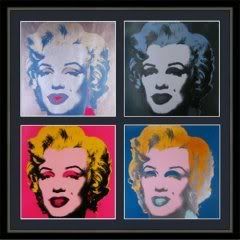 Fast forward to the year 2002. Young, pretty Laci Peterson was reported missing and later found dead along the California coastline, tragically killed by her own husband. The media launched a massive campaign about the case and in the process, offered new exposure to the problem of domestic violence.
A cute picture of Laci's smiling face appeared over and again in newspapers and on magazine covers across the country. I was horrified to read that people were disrespecting Laci and her family by selling things that had belonged to her on Ebay, making a spectacle of her that discounted who she was as a woman dehumanizing her just as Warhol's philosophy about fame had illustrated. This beautiful young victim of her husband's own hand became a media star, probably the last thing she would have wanted.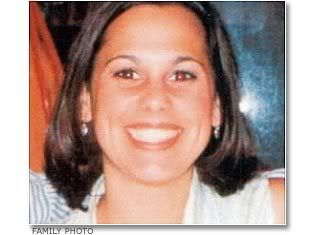 During the extensive search into Ms. Peterson's whereabouts and subsequent media coverage outcries were evoked from those who claimed the public was witnessing what is known as " Missing white woman syndrome" (MWWS), also known as "missing pretty girl syndrome" a term used to describe disproportionate media coverage of white female victims. The essential element of the syndrome is that the victim's gender, race, relative attractiveness and age matching the "damsel in distress" stereotype is alleged to result in positive discrimination in terms of media coverage and public interest in her case. With no disrespect to Ms. Peterson, there were and remain countless women who, because they are less attractive, whose rapes, beatings and murders are never mentioned in the media. This is why I created the mixed media piece, "Four Laci Petersons" in the style of Andy Warhol.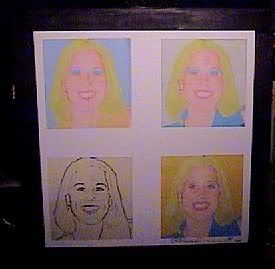 Accompanying the piece, I wrote about domestic violence and I used subversive marketing techniques to get this message across to the public. I uploaded the painting to Ebay and asked an exorbitant amount of money that I knew I would not get but if I had, I vowed to give the funds to charity……and I used the description field in the Ebay form to write my protest about the dehumanization of Laci in the media and about all the other victims of domestic violence who were never mentioned. I posted statistics about domestic violence set the auction for 10 days.
News of this event spread like wildfire and soon there were tens of thousands of hits on the Ebay Auction. That was all I wanted...to raise awareness. A newspaper reporter from the Contra Costa Times came to my studio for an interview and the story was picked up by the Associated Press and printed in newspapers across the country.
Subversive marketing. Getting the word out about an issue through art and creative thinking. If I only helped one person through this message, it will have been worth the effort.
SASASASASASASASASASASASASASASASASASASASASASASASASASASASASASASA
Since I have a whole slew of new subscribers to this blog, I should mention the weekly Jen Worden Art Challenges. Sigh up at the "Stretch Yourself" icon to the right of this post on the actual blog site. The exercises are fun, inspiring and not-too-difficult.
This week's challenge (#8) is to draw a cartoon that depicts our lives...one a day for each day of this week...upload to a site that hosts pictures and post the link to Jen's blog at: http://jenworden.com.
Here is Day #1 of the #8 Challenge for me: