Sadly, there are people who go through life with the "I never do anyone any favors..." attitude.
Friend and artist Tricia Joy Anders takes the opposite stance...and I love her for it.
In the years I've known her, I have witnessed this artist reaching out to other artists, freely sharing her vast artistic knowledge while showing encouraging support ...and I've never seen her ask a thing in return.
Since the first time I laid eyes on it, I have delighted in watching her art take many unique twists and turns, stretching her imagination and everyone else's, resulting in
amazing
(She hates that word ;-) ) art dolls, paintings and altered this or that. She can touch just about anything and turn it into art. Look what she did with this roller skate!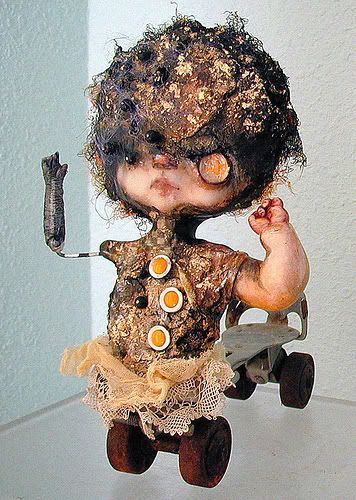 Tricia is an integral part of
Ten Women Gallery
in Venice, California, a venue that stemmed from the desires of ten talented women to reach out to other artists and to share their visions of support with their entrepreneurial spirits....again, a breath of fresh air. I enjoy this sense of camaraderie so much.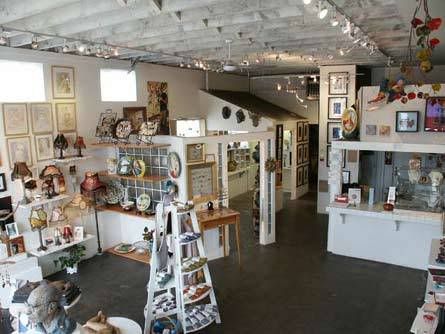 Ms. Anders' talent spans an area so vast that it is difficult to narrow one's preferences. Add her creative nomenclature to the mix and you'll find things such as "Dollywogs" and "Spuds" that will absolutely charm your socks off! Her anthropomorphic paintings are wholly captivating and always surprising to those of us who eagerly wait to see what she will come up with next.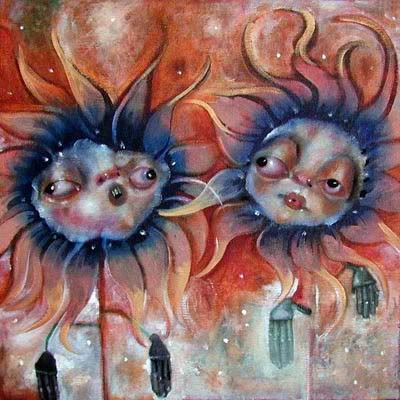 Celestial Plants
No one would dare put Tricia's edgy work into the "cute" category. Take a look at these almost menacing twins, one of whom, in the process of chewing a nail, bit off her own thumb!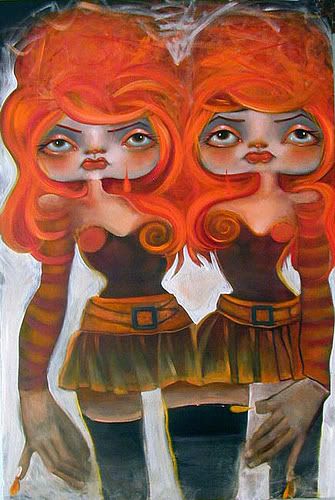 (Tarty) Orangesicle Sisters
Tricia is forever turning bugs into people or people into bugs. She even did a mixed media series about anthropomorphic potatoes!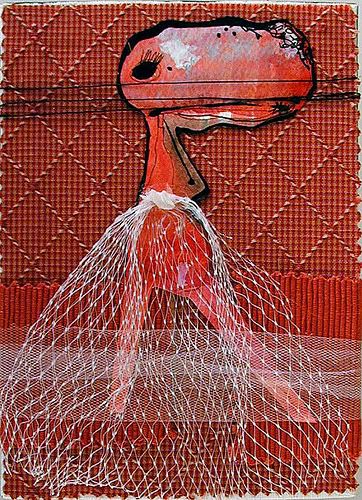 While her paintings span a wide array of subjects demonstrating her master level painting, Tricia's mixed media work is also unsurpassed in delightful fantasy vision. She uses paper clay, papier mache and other media to create all kinds of edgy sculptures. I have one of her incredible hearts hanging in my living room:
Tricia and her work have been featured on HGTV's "Crafters Coast-to-Coast and in a number of arts and crafts magazines. Most recently, her art dolls appeared on the cover of Art Doll Quarterly: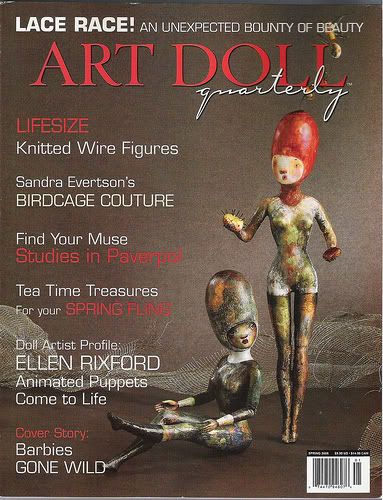 I consider one of the best things about our upcoming relocation to Southern California to be my ability to spend time with Tricia. Let me say that its a good thing eye candy doesn't have a caloric equivalent to quality. I'd be as big as a barn by now! Please visit Tricia's online galleries at
Art Propensity
and see for yourself the wonders that are Tricia Anders!
##################################################
P.S.
Yesterday, I posted a picture of a little spirit doll that I made for a friend, Madeline. Today, re-worked it and like this version a lot more.