If you have come here for the One World - One Heart event, the post about that is a little further down the page.
#########################
Last week, I wrote about some of my childhood memories associated with the rapidly reemerging art of embroidery. I showed readers the digital image I am planning to stitch. Coincidentally, I was delighted this morning to find an email from an East Coast friend who invited me to join her for the current exhibition at the NY Museum of Arts and Design.
Pricked" Extreme Embroidery
. I want to go, because after the profound impact left on me by
Betye, Alison and Lezley Saar's exhibit in San Jose
I am prompted to explore more and more ways in which I can utilize old handcraft traditions and rejuvenate them into the mainstream of contemporary art and design. This, of course, is in keeping with my determination to use the entire massive collection of ephemera I have compiled in the lower portion of our loft.
Here are two examples of the work in the exhibit:
Nava Lubelski, Side Dish, 2004
Hand-embroidered thread on ink stained cotton canvas
12 x 12 in.
Photo: Nava Lubelski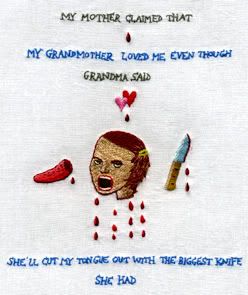 Andrea Dezsö, My Grandmother Loved Me Even Though ..., 2005-2006
Embroidery, cotton thread (DMC) on white cotton canvas
Approx 6 x 9 in.
Photo: Andrea Dezsö
This exhibit, like many of the current trends in art, showcases many different approaches to something that is thought of as commonplace, in this case, a standard needlework technique that has been around forever. The work is said to convey "powerful and personal content that ranges from subjective dreams and diaries to controversial politics in today's world". It is in keeping with the notion that I am observing more and more in fellow artist's who are "moving beyond self-imposed comfort zones" as my friend,
Jen Worden
says, and into areas that have much room for further exploration.
It is a good idea to explore how we artists can push the boundaries of the mundane and explore new ways of expression while preserving the traditional techniques and art forms. For example,in addition to fibrous materials like cotton and wool, the artists in this exhibit turn to the unexpected to create their art, using materials that range from stone to digital prints to human hair and even cosmetic skin peels! Nava Lubelski, from North Carolina, (see image above) explores the contradictory activities of spoiling and mending by stitching over and outlining spills, stains, and rips she finds on tablecloths, napkins, and canvas. She uses canvas stretchers as her embroidery loop, and the wooden strips are often visible through the mended tears.
Look around your studio environment. How many traditional ways can you find to express yourself that will push your personal boundaries, get you out of your comfort zone and into areas that challenge your art, your emotions and beliefs?