Yayoi Kusama
Since I was a child I have been in love with the work of Yayoi Kusama. Her art includes sculptures, books, performance art, installations and photo collages. Kusama is nearing 80 now and seldom allows herself to be photographed. Seeing her recently in a documentary about Marc Jacobs, (one of my favorite designers), prompted me to write today's entry about her.
Known as "The Diva of Dots", Kusama began her career by showing paintings in New York. These "net paintings" were large works with circular repetitive patterns. The example here, My Flower Bed (1965-66) is made of painted, covered mattress springs and stuffed gloves. This piece shows her frequent use of repetition and every day objects. The work suggests, as do the sculptures pictured in the background, a fragmented biomorphism and a lush and out of control blooming.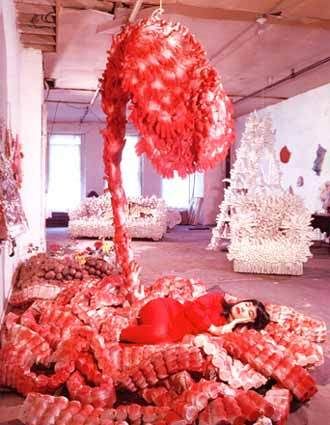 Her first sculpture (probably 1961) was an armchair covered with stuffed fabric phallic shapes and painted white. More objects covered with these phalluses followed. Kusama has also covered objects such as suitcases, coats and mannequins with macaroni and paint. Her installations often feature mirrors and polka dotted objects.
Yayoi Kusama's mental illness began in childhood when she began hallucinating the dots, nets and flowers which subsequently appear in her paintings and sculptures.
Kusama's most noted work was created between 1958-1968 in New York City. She has recently had a retrospective, Love Forever, at the Museum of Modern Art in New York.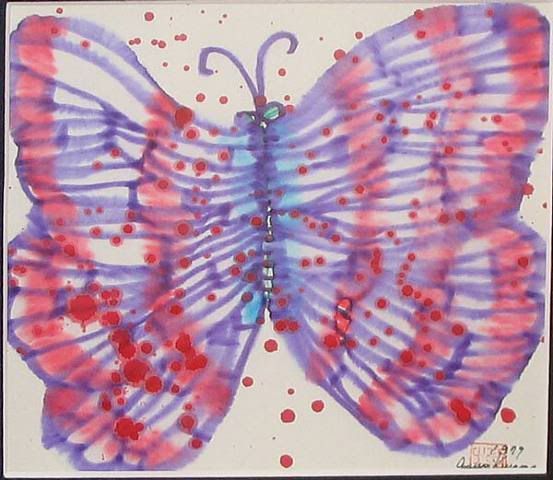 Today, Yayoi Kusama voluntarily resides in a mental institution in Japan.
***********************************************************************************
Day #4 of this week's Jen Worden Art Challenge:
Reading About Yayoi Kusama
(click image to enlarge)