Among the many reasons to visit UCLA's Fowler Museum, one of the most compelling will be to see the upcoming "Make Art - Stop AIDS" international exhibit. Earlier this week, I received an email from my friend, Jason Lahman, Studio Manager for Goldstein Kapellas Studio in San Francisco, who announced the following: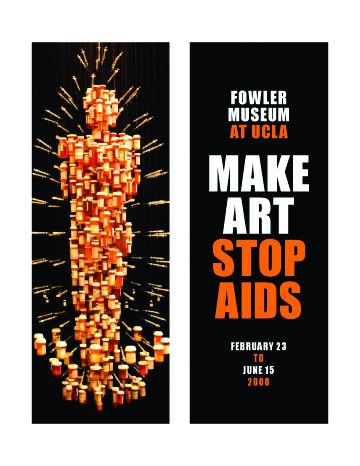 San Francisco artists Daniel Goldstein and John Kapellas have created a 7' tall human figure made of 300 AIDS medication bottles and 139 syringes. Suspended in midair the piece is at the center of the new international exhibition MAKE ART STOP AIDS.

The press release for the museum states:


For more than twenty-five years, artists have joined with activists, medical experts, and others to inspire, provoke, and guide the radical changes that the global AIDS crisis demands. Make Art/Stop AIDS—an internationally traveling exhibition debuting at the Fowler Museum at UCLA on Feb, 23, 2008—shows how artists around the world have responded to HIV/AIDS and how their work can raise awareness, inspire activism, and ultimately help end global AIDS. The exhibition will be on display through June 15, 2008.

Featuring examples from the United States, South Africa, India and Brazil—four disparate nations whose distinct experiences with and responses to the epidemic make insightful studies —Make Art/Stop AIDS presents more than sixty contemporary works including paintings, sculptures, photographs, performance videos, posters, animated shorts, digital media, and installations that engage these questions: What is AIDS? Who lives, who dies? Why are condoms controversial? Are you afraid to touch? When was the last time you cried? Why a red ribbon? Are you ready to act?

"This collection of stunning works from around the world underlines the substantial contribution artists can make in times of crisis. This work is not for auction—it's not intended to raise money for AIDS services or scientific research. Its function, rather, is to intervene in the epidemic by shifting attitudes, educating, mourning, and goading, sometimes all at the same time," says David Gere, co-curator.



February 23, 2008
7:30–11 pm
Opening Night: Make Art/Stop AIDS
7:30 pm
Biro by Ntare Guma Mbaho Mwine
Actor and playwright Ntare Guma Mbaho Mwine marks the opening night of the Make Art/Stop AIDS exhibition with a reading of selected scenes from his acclaimed one-man play Biro. Based on a true story, the work follows the life of a Ugandan man who was born during the reign of Idi Amin, and who ends up in the U.S., determined to survive despite being homeless, alone, and HIV positive.
8–11 pm
Late Night at the Fowler
DJ music by Jeremy Sole's Musaics, in-gallery puppet performances, complimentary desserts and cash bar. RSVP recommended: please call 310/206-7001 or email fowlermembership@arts.ucla.edu
February 24, 2008
12–5 pm
Opening Day: Make Art/Stop AIDS
1 pm
Flesh & Blood
See this hip-hop dance-theater piece about teenagers in Los Angeles—and around the world—and how they are affected by HIV/AIDS. Created by Kevin Kane and his energetic cast of twelve. Location: Glorya Kaufman Hall room 200, adjacent to the Fowler. $6. Tickets and Info: 310/794-9208.
2, 3, and 4 pm
Exhibition tours with curators David Gere and Robert Sember.
2:30 pm
Griots in the Gallery: Is it OK to Touch?
The second installment of the Sunday storytelling series, this touching puppet performance addresses the discrimination faced by people who are affected and infected with HIV/AIDS. Developed especially with middle school and upper-elementary school audiences in mind, this program offers honest, accurate information that is age-appropriate and addresses the human rights of people living with AIDS.