A big CONGRATULATIONS goes out to Ms. Jessica Neaves as winner of the One World - One Heart mosaic heart giveaway!
I enjoyed this event so much that I have decided to offer free giveaways each month. To participate, please subscribe to this blog by using the form on the right.
HAPPY VALENTINE'S DAY, EVERYONE!!!
Best wishes,
Stacy Alexander
xoxoxoxxxxxoooooxoxoxoxxxxxoooooxoxoxoxxxxxoooooxoxoxoxxxxxoooooxoxoxo
I have been running a bit behind on the Jen Worden Art Challenges, so am only now getting around to posting the challenge for Week #5.
The challenge was to grab a glossy magazine and choose an image. Then, we were asked to outline all the major portions of the image using a marking pen such as a Sharpie, being as detailed or as abstract as we liked. Then using white gesso paint within our marked lines… think paint-by-number....we were to white out EVERYTHING or leave some of the spaces gesso-free or even graduate the gesso coverage.
I put a bit of a twist on mine. I gesso'd everything out first...and THEN drew in the lines. It was a difficult but good lesson on gaining a sense of where the lines went and it took a lot longer than I had imagined.
After I finished, I cut out the figure and applied it to the Citrus Challenge piece that I did a few weeks ago, added some modeling paste and acrylic paint and created the following:
I am happy to have learned a new technique and I had a good time with it!
If you think you might like to stretch yourself artistically, please check out Jen Worden's Art Challenges by clicking the "Stretch Yourself" icon to the right of this post on my blog. (Obviously, if you are receiving this in your inbox, you'll have to return to the blog itself.)
In other news....
I received an email from my
friend, Letty, in Seattle
, who was announcing the opening of her friend, Jody's online tee shirt business. Letty wrote of Jody, " She's the cute one with the turquoise t-shirt that says "Trust Your Blackbird. "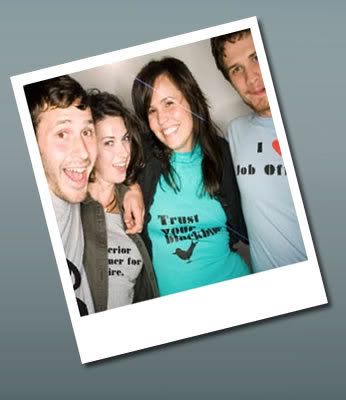 Jody carries some unique and clever items, so check out her wares. Summer is near and cool tees are happening! (These tees are especially great for job seekers who want a attention-getting way to put themselves out there!)
Check out Jody's great shop

HERE

!
AND....

Ansley
at
Bleu Arts
gave me permission to share a cool tutorial that she posted for some paper water lilies that she invented. I can see using these for all kinds of things from gifts to assemblages to just pretty things to decorate the house with.
Using these supplies:
2 colors of tissue paper
1 color of slightly thicker paper (I used a colored paper bag)
Scissors
String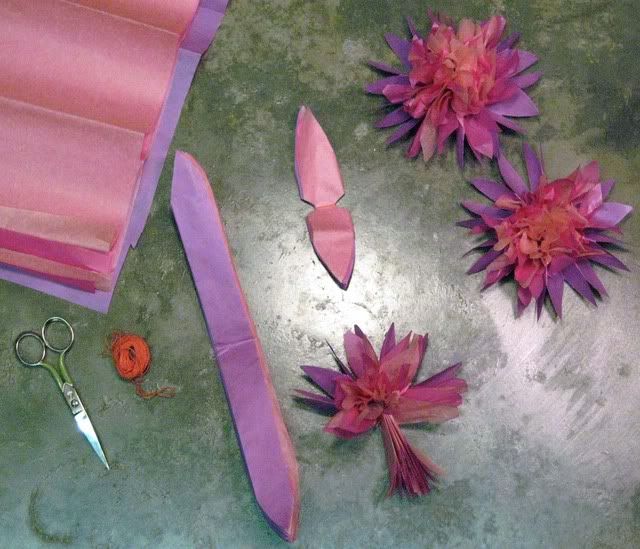 Ansley followed these directions:
Cut four 10"x12" pieces of tissue paper and 1 layer of the thicker paper. Stack the pieces of paper up alternating the colors with the thicker piece of paper on the bottom.
Fold the paper lengthwise into 1" accordion pleats.
Trim the ends into points. Fold the folded strip in half, and cut it along the fold line. Trim these ends into points too.
Cut a notch on both sides of the middle of the shorter strip and tie with string.
Open out the pleats and begin gently lifting each layer of tissue paper. The slightly thicker paper bag paper will become the bottom of the flower.
and came up with these awesome water lilies!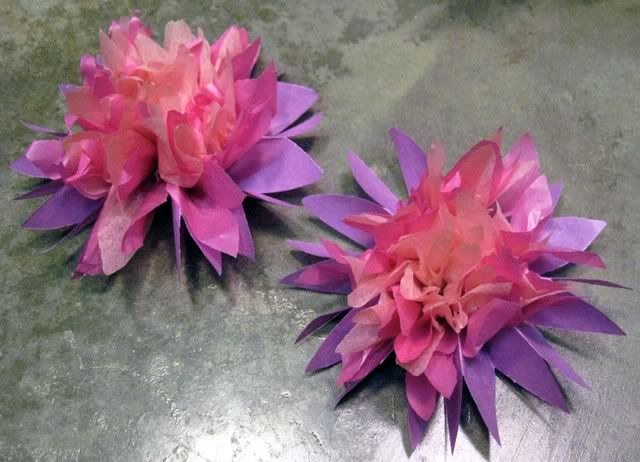 Aren't they cool??
oxoxox oxoxox OXOXOX oxoxox oxoxox OXOXOX
Have a great Valentine's Day!!
Oh, and if you haven't already, please subscribe in the email field to the right of this post to have these art blog posts delivered to your inbox each day.