@@@@@@@@ @@@@@@@@ @@@@@@@@ @@@@@@@@
In literature, the term "effictio" refers to a verbal depiction of someone's body, often from head to toe. I'm sure there is an appropriate word or phrase to summarize the beauty of the mosaic work that Oakland artist and friend, Kim Larson, crafts, but I don't know of an adequate one. The best way to describe her method of interpreting the classic theme of the female form in such a unique way is to exclaim, "Totally awesome, dude!!!" (...and I can say that because I live in California.) Kim's approach is fresh and new. It defies convention.
Instantly, after seeing her art for the first time, I knew I had to own a piece of it ....and today, this one rests on its own Victorian love seat in my living room, much to my delight. It sparkles and shines in the sunlight and possesses an almost ethereal demeanor....if inanimate objects can have a demeanor... :-) Everyone who enters the room is drawn to its beauty.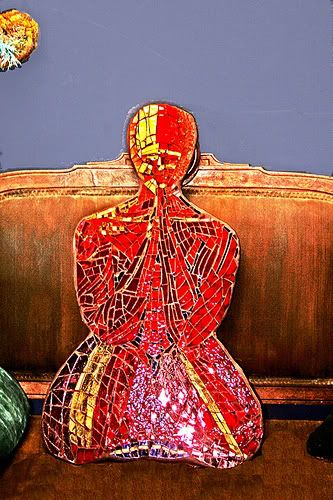 Scarlett


A large part of the appeal of Kim's work is directly related to her choices of colors that absolutely titillate the senses. Kim writes,
"I am one of those people who can hear color...I can also see the colors of numbers and the days of the week. When I hug someone or get a massage, I am engulfed in colors swirling behind my eyes created by the feeling of being touched. I have only met one other person like this so far in my life. It's called Synesthesia and is a wonderful way to experience life, I think."
Ruby
"I think my mosaic nudes capture the 'sound' of the flowing lines and voluptuous fullness of a woman's body. People react to that experience and can rarely put it into words while kindly complimenting me on the "lay patterns" of the glass or the '3 dimensional look' I can achieve. I love to give the viewer a 'feeling' like that. I have always known that art has to get beyond a person's intellectual reactions and hit them somewhere else - between the eyes, below the belt, in the first and second chakras....just somewhere NOT in their minds."

Kim places emphasis on the harmonies and varieties of the female body in a cutting edge, contemporary way that is wholly graceful. Her work challenges and overturns the more restrictive, complacent assumptions of a dominant tradition of representation and opens itself up to a broader and more distinctive iconic form.


Neptune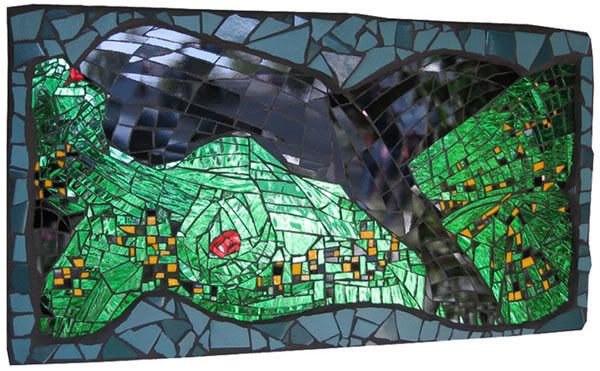 Green and Black Lovers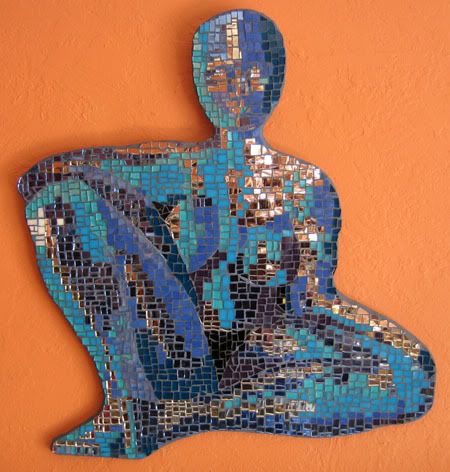 Blue Sitting Nude

The success of Kim's artistic explorations transforms the language of aesthetics irrecoverably. This is new art, and I love it. It is totally awesome.....Dude!

Kim Larson has a web site at: Kim Larson Art
and a new blog at: Kim Larson Art Blog Her work will be on display soon at Nest in Napa, California. Kim accepts commissions for her work. She also creates custom substrates for mosaics, creates graphic art and makes children's furniture. See her web site for further details.


@@@ @@@@@@ @@@@@@ @@@

Cartoon #6 for this week's Jen Worden Art Challenge...in which we are to depict some aspect of our lives in a cartoon each day for 7 days...

PACKED!!!
Click image to enlarge.